Warby Parker – Affordable, Prescription Eyeglasses Online: FREE Home-Try-On
(This post contains affiliate links – click Here to understand what that means.)
My three pair of sunglasses and regular bio-focal glasses are all from Warby Parker.
I didn't want ordinary. I prefer a retro or classic look while still being fashionable. I'm not ordinary, and with something like glasses, you can have more fun and still not stand out too much, unless that's what you're going for. I get that.
Enter Warby Parker: An American company, founded in 2010
This company was created to solve one very difficult problem: glasses were too expensive. The reason is that the eyewear industry is dominated by a single company that keeps the prices artificially high. (this is right from WP's website). So, they created an alternative. They began manufacturing glasses in-house and engaging one-on-one with customers. These are affordable prescription eyeglasses online in very cool, classic and retro designs.
High-quality, polarized sunglasses starting at $95. I LOVE THIS COMPANY!
And, regular, single prescription glasses starting at $95 too!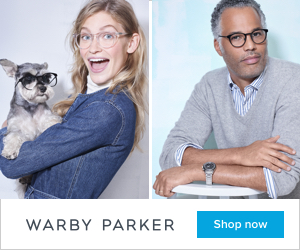 Here's what I love about shopping with Warby Parker for affordable, prescription eyeglasses online, and of course, for all of my polarized sunglasses. Their prices are reasonable enough that I can have more than one pair of each.
Their site is exceptionally user-friendly and interactive. You'll see side views of each frame and a description to help you determine which will look best on you. They also tell you how relatively large the frames are so you can better know how well they'll fit your face.
Offering Home-Try-On with Free Shipping Each Way
This means you can order up to five different frames, and they'll be sent to you free for five days, to try on at home. When you decide which you want, you'll purchase them online, and WP will ship you a fresh pair. Pop the samples in the box with the pre-paid, return shipping label, and your new glasses will arrive shortly.
There are a limited number of Warby Parker stores. So, if you don't live near one, they offer something else really exceptional. If your WP glasses need relatively minor adjustment, you may have that done at any optical store (most do this for a small fee), and WP will reimburse you up to $50 for a single adjustment within 30 days of your purchase. Have you ever heard of such smart, customer service? I'm tellin ya!
This company has a conscience. They believe everyone has the right to see.
"Almost one billion people worldwide lack access to glasses, which means that 15% of the world's population cannot effectively learn or work. To help address this problem, Warby Parker partners with non-profits like VisionSpring to ensure that for every pair of glasses sold, a pair is distributed to someone in need."
This is why I'm committed to supporting companies like this. It's why I blog about cruelty-free beauty and skincare products. There are fantastic alternatives to those companies who just don't understand about giving back, not hurting anyone, remembering the little guy and doing all you can to help people. These are qualities that deserve to be recognized, supported and encouraged. AFFORDABLE, prescription eyeglasses, online should be a fundamental right. It is at Warby Parker.
I am a delighted customer of this company.

I only recommend what I use and love.

I always try to mention any "con" about a company and when it comes to this one…I can't think of one.

Their customer service has always been a pleasure. There's something about this good company, I can't quite put my finger on, but I'll say…they have integrity. It's lovely to find that these days.

How refreshing to be able to find affordable, prescription eyeglasses online!
FYI – some of the frames pictured in my Pinterest PINs are not from this company. They are for advertising purposes only, intended to convey that frames similar in style are available through Warby Parker.
If you've found value in this post, please check my others for more solutions and cool finds, including:
The Perfect Bags & Travel Gear for Your Next Vacation
Vitacost: Health & Skincare Products up to 50% Off.  Vitamins Too!
A Cruelty-Free Skincare Routine That Makes A Noticeable Difference
If you know anyone who would benefit from this post, please share it with them.
Please comment below. Do you LOVE Warby Parker as much as I do?
---
---